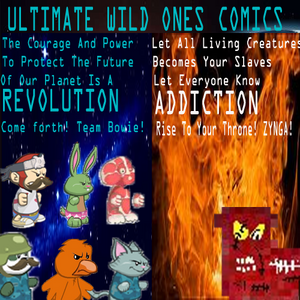 Team Bowie also known as Bowie Army is a group of Wild Ones characters in the Comic Universe . Their main goal is to kill Zynga the Dog. They are wanted after the Zynga goddess consider them as a threat to Zynga. The team is currently looking for the 3 treasures that can somehow defeat Zynga the Dog.
Team Bowie was originally founded by David Bowie the Panda after saving Roger Dick the Cat from the hands of the Zynga goddess. David Bowie then tells a little of his past and how Zynga killed the most important pet in his life. Roger Dick agrees to help David Bowie get revenge. Later they found and recruited Private Pervy after making a deal. Since then David Bowie has been recruiting other pets but ends up rejecting his offers.
Current Members
Edit
Future Members
Edit
Main GoalEdit
The Main Goal is to kill Zynga the Dog for murdering Anna the Bunny and for not giving her Farmville Cash. the Team is also looking for the 3 Treasures that can defeat Zynga.
TreasuresEdit
Warren's Forbidden Photo
Sacred Charice Photo
Platinum Facebook Credits
Roger Dick's GoalEdit
He joins Team Bowie after hearing David Bowie's story, but he also wants his money back.
Private Pervy's GoalEdit
He only joins Team Bowie to get a chance of ****** the Zynga goddess. According to him, the Zynga goddess is the most beautiful human in the universe. After asking to the Tree of Knowledge of how will he defeat the two bunnies that destroyed his reproductive system. he seems to have another goal of finding Sasuke the Bunny using the help of Team Bowie.